Posted on behalf of the HLS Center on the Legal Profession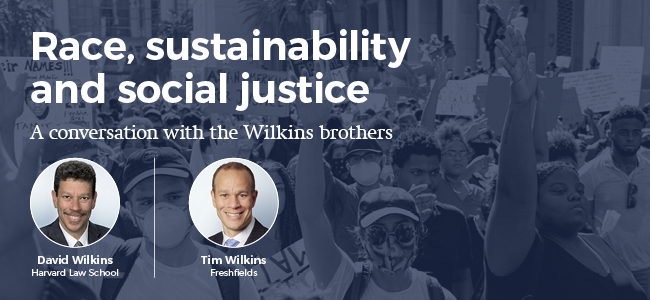 Race, Sustainability, and Social Justice:
A Conversation with the Wilkins Brothers
Wednesday, October 14, 2020
7:00 am until 8:30 am San Francisco
10:00 am until 11:30 am New York
3:00 pm until 4:30 pm London
4:00 pm until 5:30 pm Central Europe
Professor David B. Wilkins '80 – Lester Kissel Professor of Law, Faculty Director of the Center for the Legal Profession, and Vice Dean for Global Initiatives on the Legal Profession, Harvard Law School
Timothy A. Wilkins '93 – Global Partner for Client Sustainability, Freshfields

Following the tragic deaths of George Floyd and Breonna Taylor, and the disproportionate impact COVID-19 has had on people of color, companies, law firms and other professional service organizations have moved the fight for racial equality and justice to the core of their sustainability agendas. Is there reason to be hopeful that these latest initiatives will bring about greater racial equality and opportunity?

The Wilkins Brothers will engage in a frank discussion on the progress that needs to be made, the challenges that lie ahead and the role of the legal profession in enabling lasting change. Their conversation will include examples of companies that are throwing out old playbooks on diversity and offering new models that seek to transfer equity, leadership and power to communities of color.

In this Webinar, they will analyze the data around recent corporate announcements and other recent developments to discuss:

Which sectors are leading the charge?

How is the law supporting these changes and where does it fall short?

What internal frameworks, policies and compliance mechanisms are companies and law firms utilizing to achieve internal change?

What is the role of the lawyer in marshalling support and navigating risk on these initiatives?

What are companies and law firms doing to reduce racial inequality within their spheres of influence (operations, supply-chains, customers and communities)?

Which financial tools have been used to make smarter investments in minority-owned businesses and communities of color?

How are companies and law firms betting on education and the next generation of leaders of color?
Race, Sustainability, and Social Justice: A Conversation with the Wilkins Brothers
When:
10:00AM - 11:30AM Wed 14 Oct 2020 ( Timezone: Eastern )

Virtual Event Instructions:
Please use the link below to register for the webinar.
Please contact Freshfields US Events for further information about this event. Please note that this event is being recorded and may be used on the Freshfields website for marketing and business development initiatives.

The views expressed during the webinar are solely those of the speakers or participants and are not views of Harvard Law School or Harvard University.