September 29, 2020

Dear fellow Harvard Law School alumni,

I am honored to serve as the President of the Harvard Law School Association, the worldwide umbrella organization for the many HLSA Clubs and Shared Interest Groups (SIGs) that form the lifeblood of the HLS alumni community.

I write to you during an extraordinarily challenging time across the globe. The pandemic, the ongoing crisis and reckoning in racial justice and other areas, and attacks on the rule of law worldwide have placed new strains on the social fabric in ways that we could not have imagined just a few months ago. All of this is being played out against the backdrop of an array of difficult personal circumstances arising from the pandemic, with the majority of our 40,000 alumni locked in their homes for the last six months and juggling professional, personal and family demands.

Against this set of challenges, the HLSA is helping us engage with one another as we do the important work facing us. The individual HLSA Clubs and SIGs are producing an amazing array of programming to address diverse and yet related topics of public health, racial justice, the rule of law, and other timely issues. As a result of the virtual world in which we have found ourselves, the Clubs and SIGs are sharing that programming across the HLS alumni community in ways that we could not have envisioned before the pandemic changed the world. I encourage you to participate in Club and SIG virtual events by visiting the HLSA Global Calendar of Events. You may also choose to participate more actively in HLSA activities by finding an HLSA Club or SIG community in which to get involved.

Finally, a top priority of Dean John Manning '85 is to continue to support alumni-to-student mentorship. Through Amicus, our community-building platform and advising network, alumni can register to mentor current students and provide guidance for them during this challenging time – and often, the students can teach us important new lessons. This fall, HLS alumni have the opportunity to mentor 1L and LL.M. students virtually as they navigate a unique experience. I encourage you to log in to Amicus to become a mentor today. The platform also serves as the Alumni Directory, where you can renew relationships with your classmates and peers.

Like all of you, I look forward to reconnecting in person with my friends and colleagues. When that happens for all of us, I hope that HLSA will have been transformed from an organization that depended on physical space and presence to one that is able to connect our alumni and current students across geographies, time zones, generations, and backgrounds.

This is an exciting time to be a member of the Harvard Law School Association.

All the best,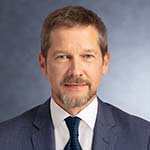 Christopher L. Mann '89
President
Harvard Law School Association