AlumniMagnet Training Sessions
The Alumni Relations team is happy to provide training and troubleshooting for the AlumniMagnet platform. Below are some of the sessions we offer:
This training is recommended for those who are new to AlumniMagnet, or who have not been active on it in the past six months. This session is approximately one hour long and will cover topics such as Website Overview, SupportTracker Overview, Creating & Posting Events, and Creating & Sending Emails.

Advanced registration is required so we can grant you administrator privileges. Participants will need to have access to Zoom and Mozilla Firefox for this training.
View training. This on-demand session is recommended for current and previous web administrators who are looking for a quick refresher of how the website works and the best practices for posting events and sending newsletters. To view this training, you will be asked to register in Zoom and then you will have access to the recording.
View training. This brief on-demand session is recommended for current web administrators who are looking to learn about some of the newer features included with AlumniMagnet. If you would like to have the new Submit an Event tool featured in this training added to your website, please create a request on your Support Tracker.
View training. This brief on-demand session covers how to set up a ticket for an event, edit confirmation emails and RSVP questions, and put tickets behind HarvardKey to ensure only alumni and students are able to access the event.
Have a question about AlumniMagnet? Want to brainstorm the best way to approach an event posting? Join the HLS Alumni Relations team for office hours every other Thursday as we are happy to assist.

Advanced registration required. Please let us know why you are attending office hours on your registration so we can prepare resources for you.
magnet.help Articles & Videos
For those who have adminsitrative privileges on their website, we encourage you to review the articles and video tutorials provided by AlumniMagnet. Log in to your Club/Shared Interest Group website and view these materials any time by clicking magnet.help on your adminsitrative menu.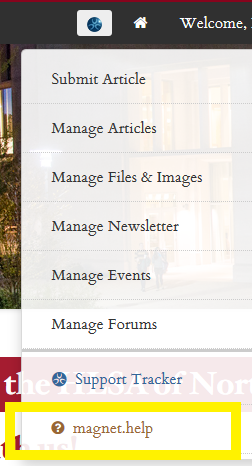 Questions? Contact us:

Phone: 617-495-2425
Email: hlsa@law.harvard.edu
As a reminder, while the physical HLS Offices are closed, your Alumni Relations team continues to be a resource for you.