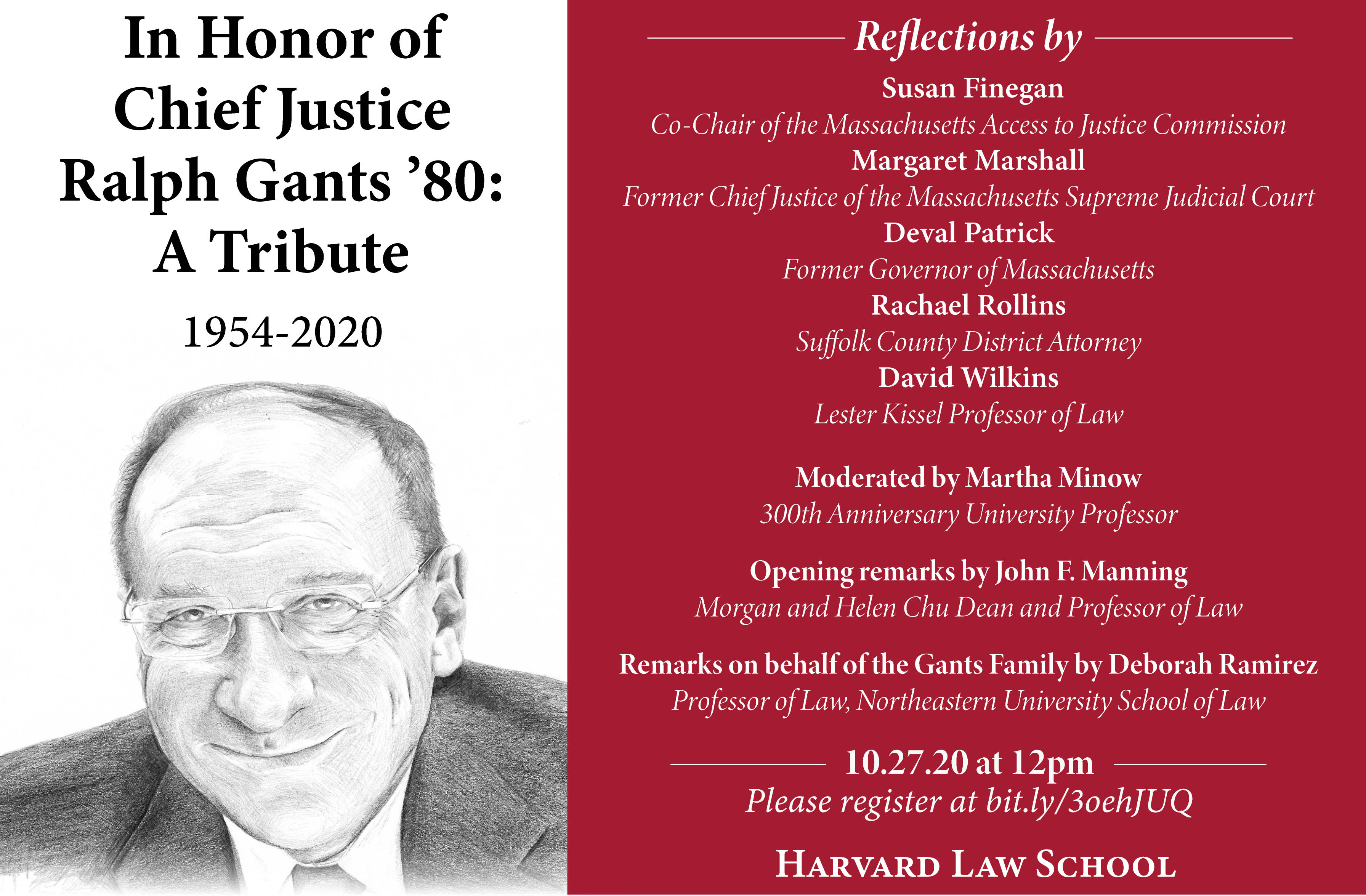 In Honor of Chief Justice Ralph Gants '80: A Tribute
Tuesday, October 27th
12:00 pm ET
Please join us for a tribute to the life and work of Chief Justice Gants and how he exercised judicial leadership to advocate for access to justice. Guests will share their reflections on Chief Justice Gants in a panel moderated by Professor Martha Minow. Registration is required, please click here to register.

Reflections by
Susan Finegan, Co-Chair of the Massachusetts Access to Justice Commission
Margaret Marshall, Former Chief Justice of the Massachusetts Supreme Judicial Court
Deval Patrick '82, Former Governor of Massachusetts
Rachael Rollins, Suffolk County District Attorney
David Wilkins '80, Lester Kissel Professor of Law, Faculty Director of the Center for the Legal Profession, and Vice Dean for Global Initiatives on the Legal Profession

Moderated by
Martha Minow, 300th Anniversary University Professor
Opening remarks by
John F. Manning '85, Morgan and Helen Chu Dean and Professor of Law
Remarks on behalf of the Gants family by
Deborah Ramirez '81, Professor of Law, Northeastern University School of Law

In Honor of Chief Justice Ralph Gants '80: A Tribute
When:
12:00PM - 1:00PM Tue 27 Oct 2020 ( Timezone: Eastern )

Virtual Event Instructions:
Please use the link below to register for the webinar.