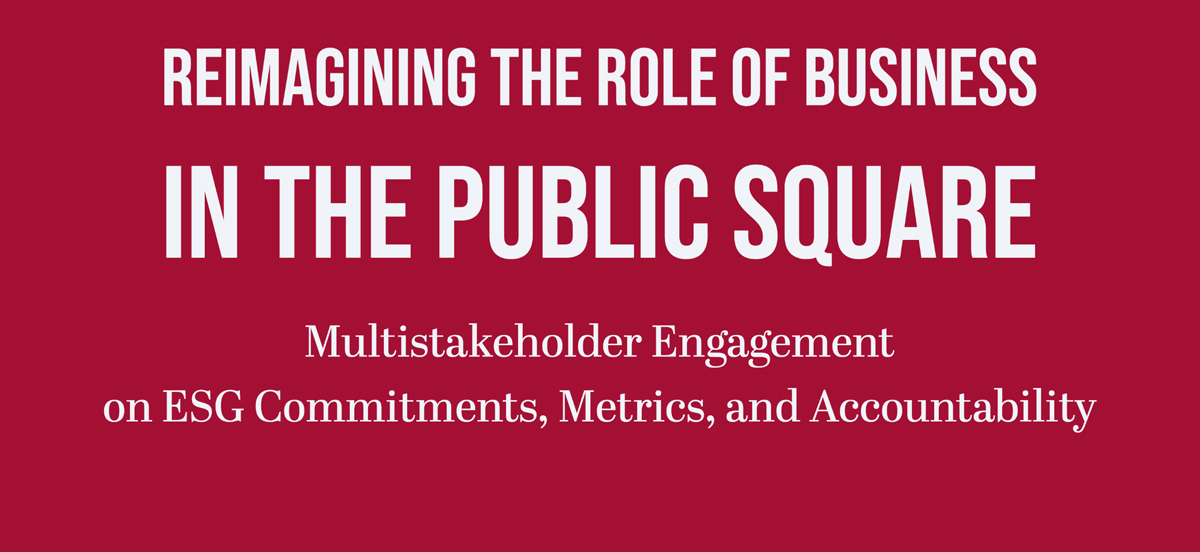 Reimagining the Role of Business in the Public Square: Multistakeholder Engagement on ESG Commitments, Metrics, and Accountability
Thursday, September 15
9:00am-6:00pm ET
Harvard Business School Campus, Boston, MA

How can business leaders, governments, and other key stakeholders work collaboratively to make measurable, sustainable, and accountable progress on ESG goals and commitments?
Join us for an in-person, interdisciplinary event, Reimagining the Role of Business in the Public Square, on Thursday, September 15, 2022 on the Harvard Business School Campus, co-hosted by Harvard Law School's Center on the Legal Profession, Harvard Business School's Institute for the Study of Business in Global Society, Harvard Kennedy School's Center for Public Leadership, and Harvard University's Data Science Initiative.
Speakers include:
Kenneth Chenault, Chairman and Managing Director, General Catalyst
Arnold Donald, CEO, Carnival Corporation & plc
Kenneth Frazier, Executive Chairman of the Board, Merck
Gary Gensler, Chairperson, U.S. Securities and Exchange Commission
Julia Hoggett, CEO, London Stock Exchange
Sherrilyn Ifill, President and Director-Counsel Emeritus, NAACP Legal Defense Fund
Fred Krupp, President, Environmental Defense Fund
Satya Nadella, Chairman and CEO, Microsoft
Deval Patrick, Co-Director, Harvard Kennedy School's Center for Public Leadership
Brad Smith, President and Vice Chair, Microsoft
. . . and many more!
Learn more on our conference website.
The event has no attendance fees, will take place in-person, and will be open to the public. In attendance will be a global audience of leaders from business, government and public policy, academia, law, civil society, the media, and other key stakeholders.